The Town of Southern Pines awarded Sprucing-Up plaques to eight winners July 13 at its regular business meeting. The Appearance Committee selected the winners for outstanding improvements to their properties.
Tony and Jeannie Blando were selected for the restoration of their 1920s property.
The couple thanked their realtor, Kate Shinkwin from Rhodes and Company Real Estate, for her professionalism, expertise, and dedication throughout the entire renovation process.
"She is a fantastic ambassador for Southern Pines and the finest realtor we have ever dealt with," said Tony Blando. "We also want to thank Dean King and Don Johnson from Pinnacle Development Design Build, LLC. The "Sprucing Up Southern Pines" award really should go to them as they had the foresight and wherewithal to restore this amazing home. They are both men of integrity who are doing great things all around Southern Pines, and we feel blessed to call them new friends."
Residents Ernesto and Amy Tomez, Ella Smith, Denise Krauza and Jessie Coyle, Virginia Gallagher, Karen Wigner with Moore Housing Partners Limited, Mike Murphy with the Sunrise Preservation Group, and Scott Wolcott of Wolcott's Restaurant also received awards.
The following series of contributed photos begin with the original dwelling to Tony and Jeannie Blando's completed renovation.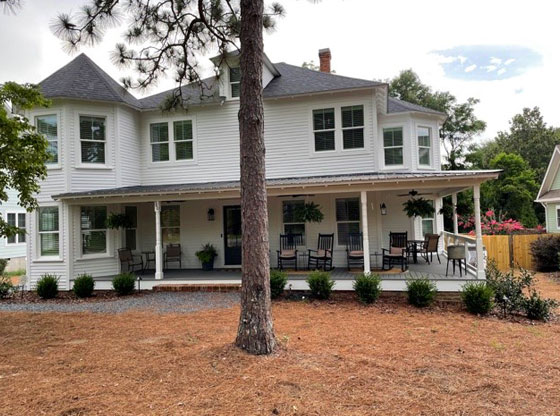 Feature photo: The Town of Southern Pines Appearance Committee awards eight citizens for "Sprucing-Up" their property.
~Article and feature photo by Sandhills Sentinel Reporter Stephanie M. Sellers.